The Midi Partner 2 is the same size as the original but has an extra line of buttons giving extra functions. The single drum button on the front has now been properly accommodated and extended to 3 drum sets which are all individually adjustable for volume..

The buttons are assignable to the footswitches like all the MIDI Partner buttons allowing foot operation during playing. (You can set quickly and easily any of the 4 footswitches to operate any of the front panel buttons).

All the functions are fully editable i.e. they can be varied to taste and the settings are stored permanently. Changing the sounds is accomplished by holding down the button of the function to be changed until the lights next to the controls start to flash. Pressing the buttons again puts you back to normal playing mode and stores the effect just like the already variable effects on the MIDI Partner.

Access to the sound editing functions is now much easier without having to switch the unit on and off, allowing you to experiment with the 128 internal sounds more easily.

From the back, the functions of the new column of buttons are :-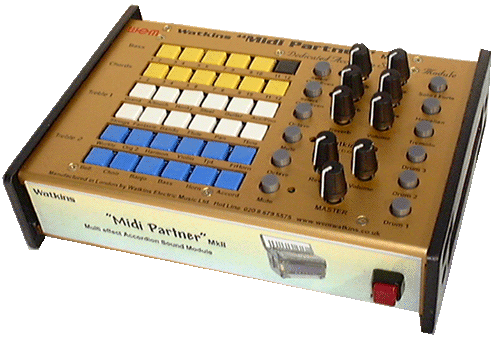 This is still the easiest to use Midi Accordion sound expander there is and holds its own against expanders many times its price.